Etienne R. Bowie
Administrative Director | Democratic World Federalists
JOHN SUTTER
John Sutter was a man driven to improve the world and make it better for the people within it, no matter the personal and physical toll. He was a son, brother, husband, father, soldier, and peace activist. He was married to Doris Frances Ake on July 1, 1956, in the Columbia University Capel on an afternoon by Rev. Dr. J. Gordon. John had two children a daughter, Anne, and son, John. John's family had a history of military service; his uncle served, younger brother and his son served as a Colonel with the Defense Intelligence Agency.
Born on January 13, 1926, in University City, Missouri and graduated at the age of 16 from University City Senior High School. His father, Orval, was an attorney and locally elected official, and his mother, Anne, operated a small family bus company in the town.
As a child, John would campaign for his grandfather and father in Saint Louis County and he would often speak about the activism of the Student Federalists Movement for world peace in the 1940's. John would enroll into Washington University in Saint Louis where he would study political science and international relations. He would later join the Reserve Officers' Training Corps (ROTC) where he would attain coast artillery training. His studies in university would be cut short when he was drafted to the army on March 31, 1944, at the age of 18.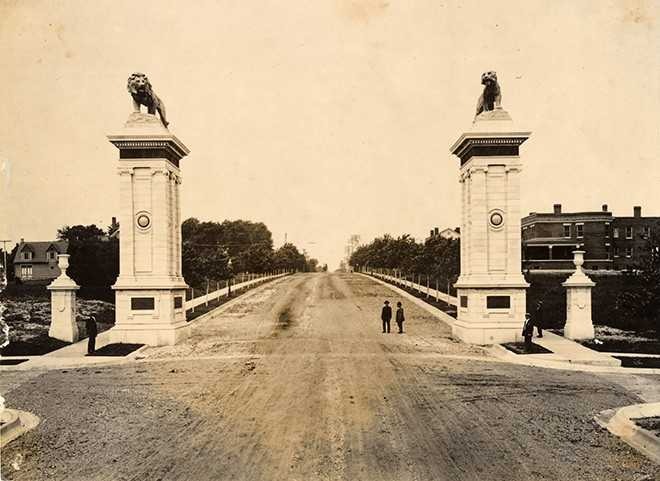 University City, Missouri | 1907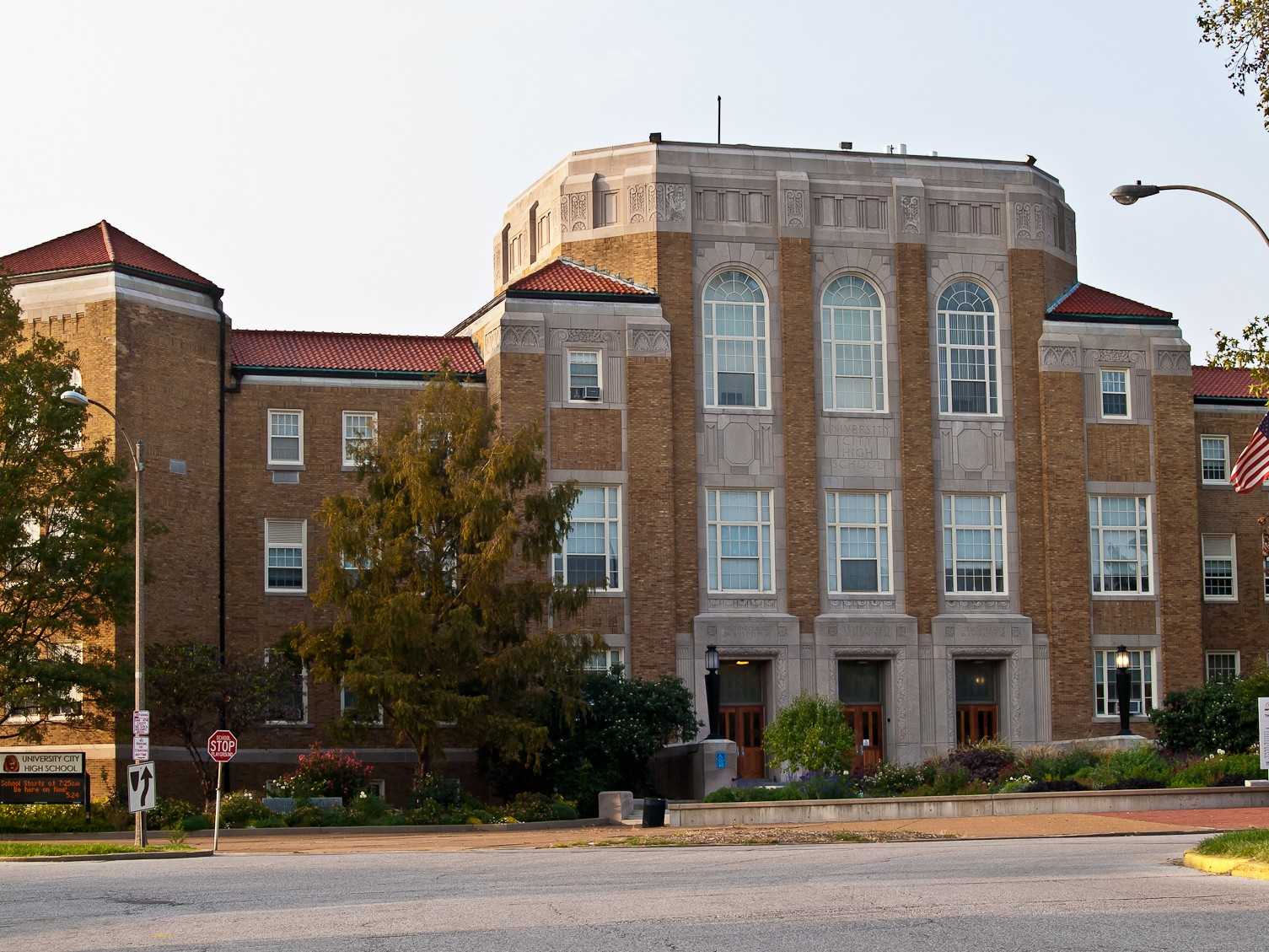 University City Senior High School | 2017
"To become truly World Citizens, it is necessary to delegate powers and fashion a system for governing the Earth, with adequate checks and balances, horizontally among the global institutions and vertically among the different levels of the world federation. At the same time, it would do no harm if we, living in what we like to call democracies, become real citizens thereof and overcome the obstacles to full-fledged citizenship at home."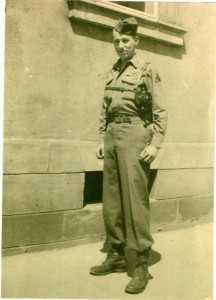 THE SAN FRANCISCO PROMISE
THE SOLDIER
John was sent to Fort Bliss in Texas, and due to his artillery training experience, from ROTC, he was able to continue learning more about mortars and other artillery weaponry. He stayed in Texas for four to five months. On the base at Fort Bliss, he learned to recognize the difference between friendly and enemy aircraft. John would later be sent to infantry training at Camp Stewart and Camp Gordon in Georgia. In John's eyes infantry was the "head of the battle".
John said he never had a sense of fear or worry in combat. He always seemed to stay clear-headed in any situation, and he didn't know if he was born with the ability or gained it from his training. During his training, he noticed, how certain groups of soldiers were uneducated and illiterate. Teaching him how different Americans lives were depending on where they came from and how much education mattered.
January 1945, John would receive his first assignment to Europe. He was shipped to France on Queen Elizabeth with his fellow soldiers as replacements for casualties from the Battle of the Bulge.
On the sail to France, John noticed the class divisions between the British and the more privileged officer.
After fourteen days on the ship, John would arrive in Lorraine, France where he met his company and battalion. John was assigned to the 9th Armored Division of the US Army, 9th Armored Engineer Battalion, C Company.
The division would move from Lorraine to Belgium then into Nazi Germany. John said while in transit his division experienced the cold winter of Central Europe. Snow covered tanks and frozen mud roads. While going from destroyed and bombed town to the next, John learned about the tolls and causalities of war. The loss of life and of hardship put upon the people is what instilled a sense of duty in John to fight for a better world without war.
He would come into his first brush of combat in Aachen, Germany.
What is World Federalism?
World Federal Government (WFG)
It wasn't a big battle, but it doesn't take much for lives to be lost but just a few bullets or an explosion to go off. When the division would travel from location to location, they would occasionally experience sniper fire. For a while, it seemed it would be an easy trip through Germany because most of the big battles had been fought a few months before John had arrived in Europe. But things would change as commands would come from Generals Bradley and Eisenhower to take Ludendorff Bridge on the Rhine River.
The allies never expected to take the bridge, but a battle plan was drawn and the boys were going to figure out how to keep the Germans from blowing the bridge so they can help the allies send support troops to East Germany. The Germans tried to blow the bridge with charges several times, but the bridge wouldn't go down. The news came in that they were going to be sending in bomber planes to take down the bridge. The plan was B Company would advance to the other side of the bridge to set up a bridgehead while C Company protected them from intense artillery and aircraft fire.
The next day, John would work with C Company on setting up their positions to protect B Company. They worked to keep the bridge clear while the others advanced. The Germans started bombing the bridge overhead with Stuka dive bombers. The Germans efforts to stop the 9th battalion became difficult because of the bad weather, but the weather also made it hard for his company to cover their guys. Two days passed and the Germans still didn't take down the bridge, so they started shelling the bridge with 60 cm artillery mortar guns, 4,850-pound shells. John could see the big muzzles blast from two miles away. John said that the shells gave off a noise between a freight train and fire truck. All day the soldiers would go from protecting the other unit on the bridge to running for cover in a tunnel—hoping they didn't get hit by one of the shells.
One time the artillery guns started going off and John wasn't able to make it to the tunnel in time. A shell struck the ground near him and he hit the ground. He said he felt something hit his face with the force of a sledgehammer.
Solving Global Problems
We can work together to make the world better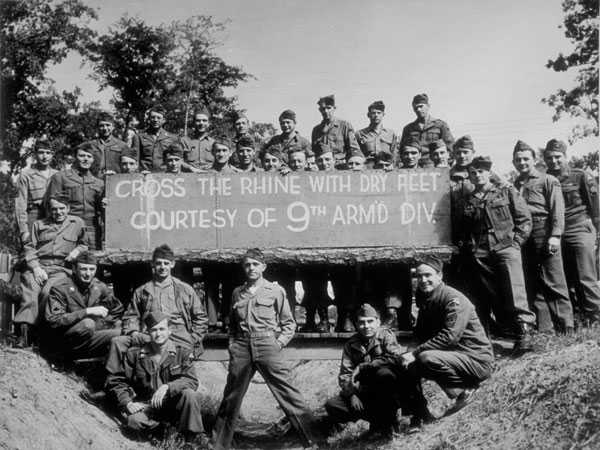 9th Armored Div. Crosses Rhine River | 1945
Become a Member
By Becoming a member of the DWF, you help to keep us by running our basic operations and promoting our ideas.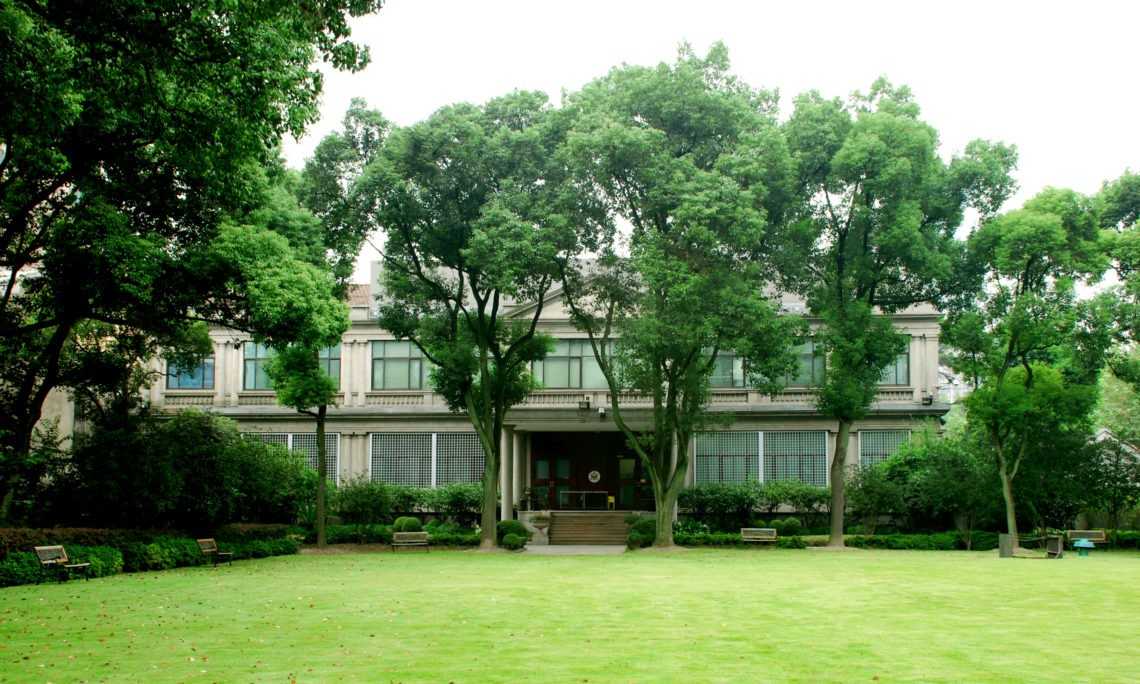 US Embassy General Consulate | Shanghai, China
He looked up, the bridge was hit and thirteen men were injured by shrapnel from the shell. Hurt with his mouth shut from the shrapnel, John then was able to get up and returned to safely to the tunnel.
The mission to capture the bridge was a success, and the US Army was able to send several divisions over the bridge to establish a bridgehead as planned. The 9th Division did something only accomplished by Napoleon's French and Caesar's Roman soldiers.
John said that when he visited the city of Remagen again for the 50th Anniversary of the capture of the Ludendorff Bridge. He was amazed to have learned that the locals didn't support Hitler or his Nazi regime. He remembered a local speaking at the event say, "We didn't realize it at the time, but we were most thankful that you liberated us from Hitler". To hear those words in that speech moved John and cemented his views of self-governance and the need for more democracy.
John was honorably discharged after reaching the rank of Staff Sergeant and received several medals for his services in WWII including The Bronze Star for Valor in combat, a purple heart, a Good Conduct Medal, and battle ribbons for service in Europe.
SEARCHING FOR DEMOCRACY
After leaving the military, John would go back to Washington University in Saint Louis where he would continue his studies. He would graduate with a bachelor's in public administration and masters in history and economics. He began focusing on a doctorate at Washington University on the United States of Europe.
Paths to a World Federation
There are many paths to a better world, but they all meet at world federation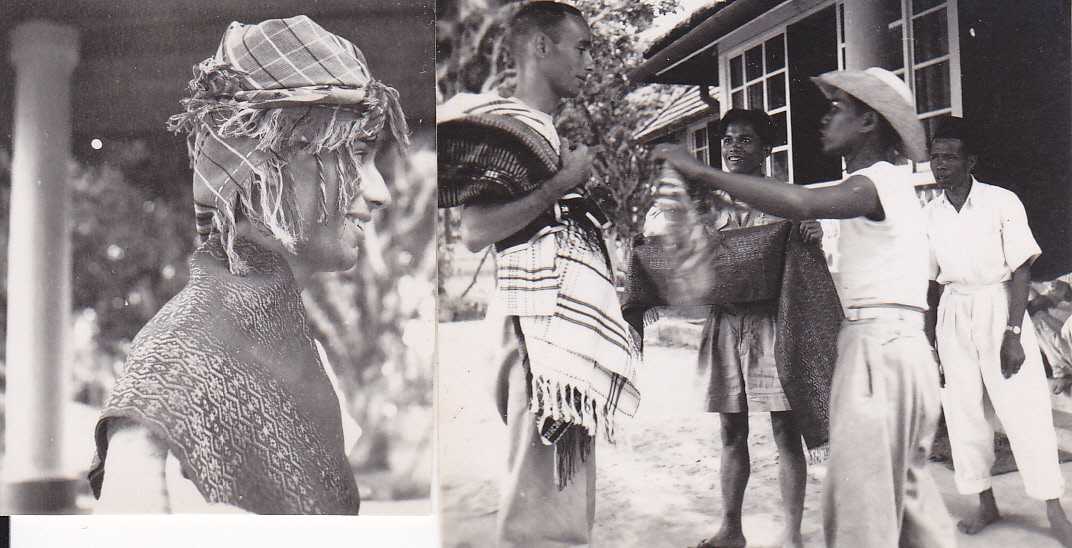 John arrives to Indonesia | 1955
Donate
The DWF always needs your help to educate the public on the ideas of World Federalism and humanity's advancement to a peaceful and rich society.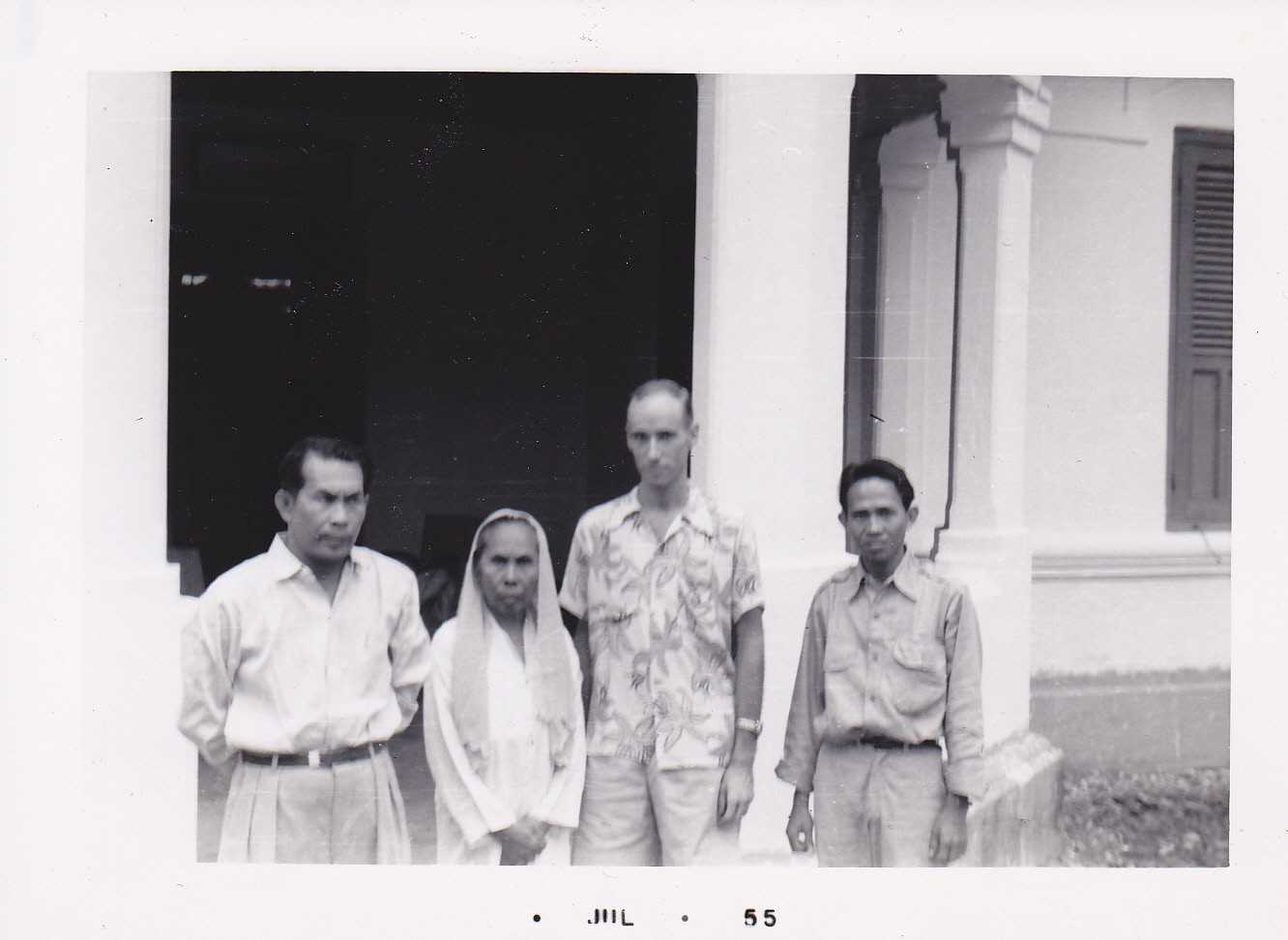 US Embassy Indonesian Consulate | 1955
While working on his dissertation, John decided to take the Foreign Service Officer exam which he ended up passing.
John would join the Foreign Service as a staff person and be sent on assignment to the American Consulate General in Shanghai, China—once the largest of the Foreign Service post. There he spent his time working behind the Bamboo Curtain with cabinet officials and supreme court members.
Within a month of being in China, John would experience the Chinese Civil War. A three-day battle in Shanghai with the Communist Army against the Nationalist Army with the communist winning in the end. As the assistant administrative officer, he helped to evacuate the consulate's personal. Even after all of that, John stayed in China for a year and six months as he rose to the position of Vice Consul at the consulate.
When the consulate in Indonesia was reopened, John was sent there to assist in setting up the post in Surabaya. John once said, "I liked the Indonesians, but the post-revolutionary period was a time of many difficulties in Indonesia.". After taking specialized Indonesian language and area training at Yale University, he was sent to the Jakarta US Embassy in Indonesia as the economic officer.
John would receive support from the US ambassador in Indonesia so he could obtain a Ford Foundation Fellowship for his research on the "Political Influences in the Indonesian Economy." After completing his Ph.D. in 1959, he was employed by The Asia Foundation, as grant administrator and director of program management, where he worked with governments and people in Malaysia, Indonesia, and Pakistan. He was with the foundation for 31 years and ended up at its San Francisco office in 1987. That same year John would join the U.S. World Federalists Association.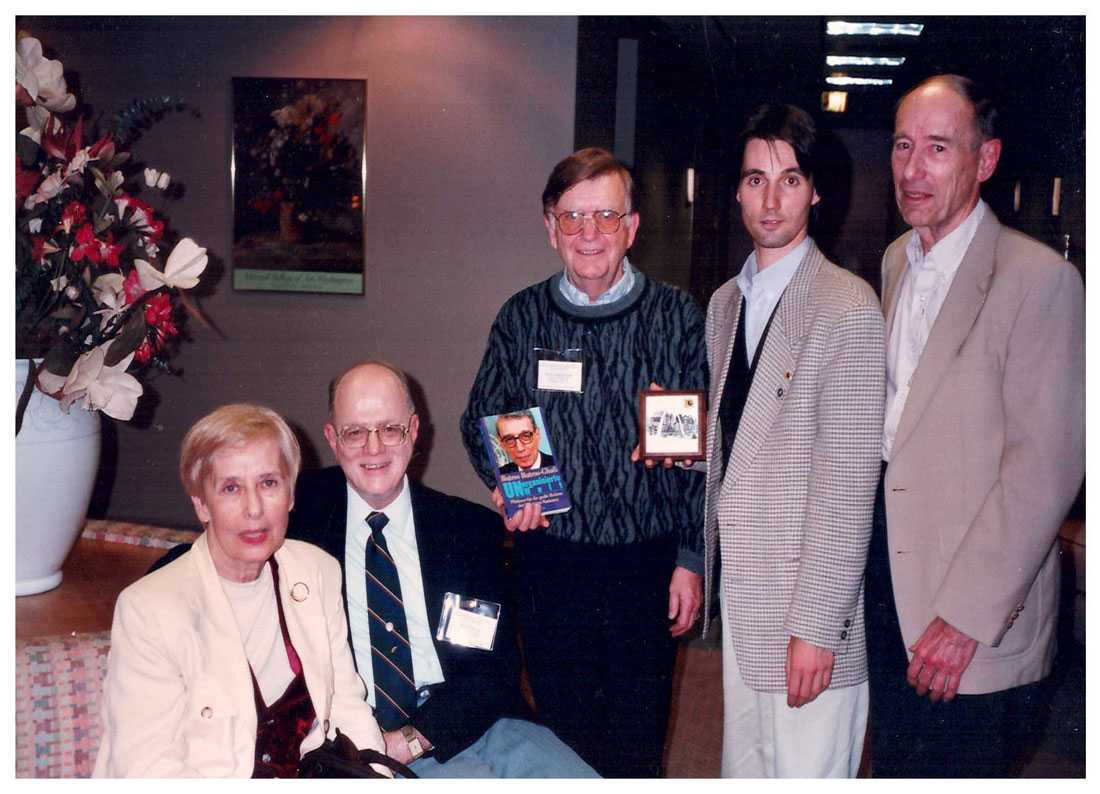 World Federalist Association – North Cal | San Francisco, CA

THE SAN FRANCISCO PROMISE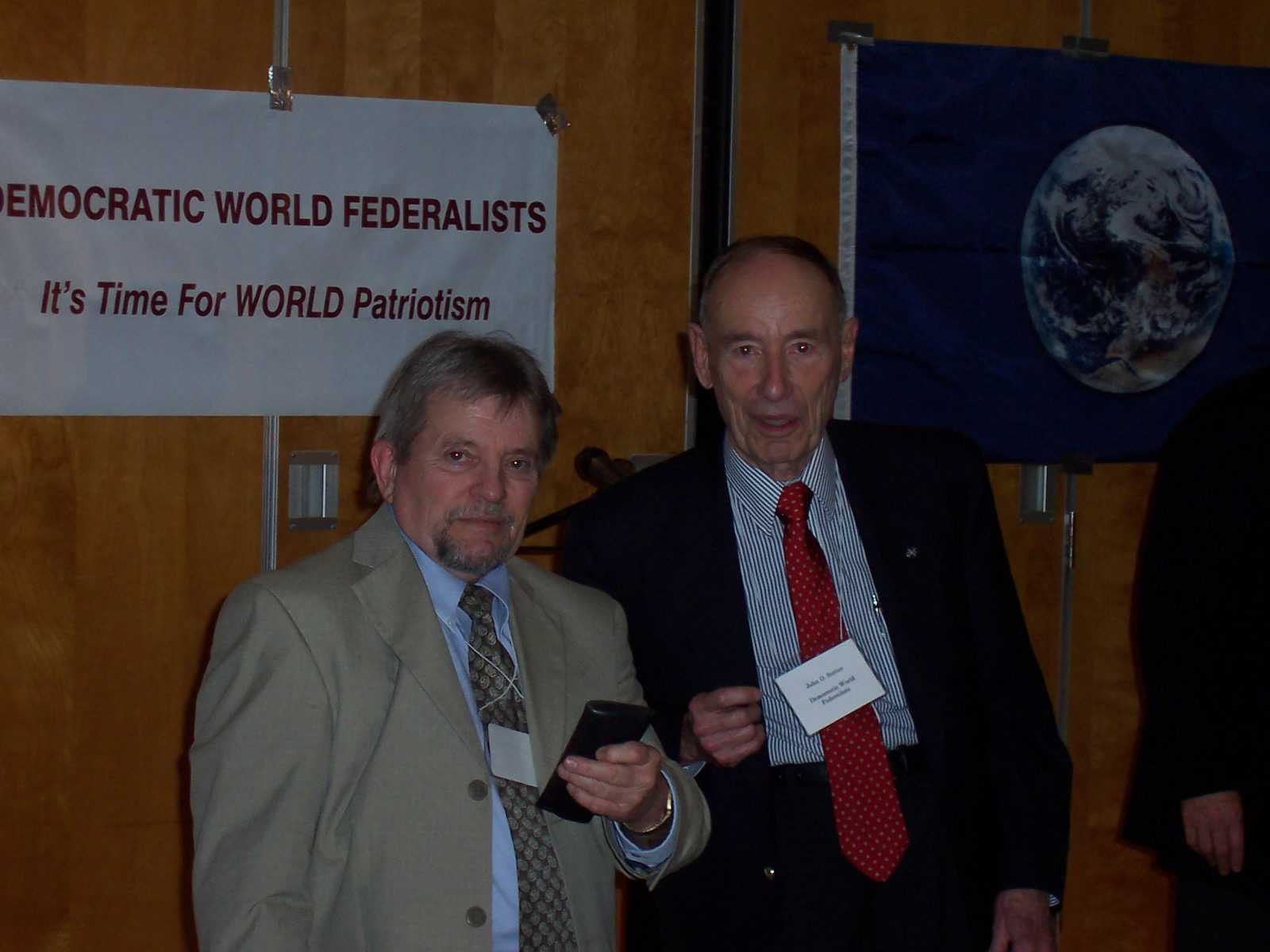 US Embassy Indonesian Consulate | 1955
THE WORLD FEDERALIST
Though John had already been around the world and served in many government roles dealing with geopolitics he decided to officially become a globalist and world federalist by joining the World Federalists Association. The world federalists' goals were to abolish war, all crimes against humanity, the preservation of the environment, and the creation of enforceable world law for all, connected with John's experiences as a soldier, foreign service officer and student writing about the United States of Europe. But now things had changed; he wasn't seeking to only create a united Europe or improved government relations, but something greater, a united world.
John started as the editor of the quarterly Northern California World Federalist, which was later renamed Toward Democratic World Federation. He would later become the World Federalist Movement – Northern California's treasurer, vice-president, and president. He also served on the Board of Directors, Liaison Committee and Policy Committee of the World Federalists Association from 1989 to 2003. He also served on the Council of the World Federalist Movement from 1991 to 2007. There he headed WFM's committee on Federalism and the Right of People to Self-Government.
In 1993, John would help to organize the San Francisco hearing of the U.S. Commission on Improving the Effectiveness of the United Nations. Then in 1995, he organized the World Congress in San Francisco and its symposium on 'Restructuring the United Nations: Achieving Democratic Global Governance for the 21st Century'.
In 2005 after 60 years of history from the United World Federalists to the World Federalist Association to the World Federalist Movement of Northern California, the organization would break away from the World Federalists Association, now the Citizens for Global Solutions, and changed its name to the Democratic World Federalists. CGS, formally WFM, moved away from the belief and mission to create a world federal government, which to John and the current leaders of the DWF felt was unacceptable.
"The federation of American States arose out of their War of Independence. The European Union-evolving into a European Federation-was born from two destructive World Wars. The system of anarchy that persists in the world today makes it difficult to take action against perpetrators of crimes against humanity. Nevertheless, in addition to the intermediate step of putting an International Criminal Court into operation, the answer to world crimes-along with solutions to global problems that countries acting alone cannot solve-may lie sooner rather than later in the People of the World becoming aware of the need for, and striving to exercise their sovereignty through, a federal system of governing the world, a system of the People, by the People, and for the People."
John believed to move away from our core goals and ideas was a betrayal of the mission many world federalists had fought half a century for, but the DWF would continue that mission alone if needed.
Still in connection with the World Federalists Movement, and its global organization, John was able to continue his work writing and editing Toward Democratic World Federation, now the DWF News. John stepped down as the President of the Democratic World Federalists in 2012 but still stayed on as a board member until his last days.
A LEGACY DEDICATED TO PEACE
John was an intellectual and at the Sunday monthly DWF board meetings he would quote Socrates, Aristotle, John Jay, James Monroe, and many of the great thinkers in history as if he had never lost a step. He would often ask about youth movements like the Young European Federalists, Justice Democrats, and Sunrise Movement. John said that "we as Americans should be spending time and money on training and educating young people for working toward a peaceful world instead of throwing trillions of dollars toward war." He also thought that more young people should join the Peace Corp, non-profits, and NGOs working with people in other countries to make the world a better place and to oppose military action.
John would want the people of the world to know that we are all a part of the human family and though we have cultural, religious and philosophical differences if we all worked together the world be would a better place for all people to live. He would also want people to know that we can establish a government organization that serves all people of the world, not dependent on those at the top. Till his last days, his mission was to create world peace and democratic global governance.
I met John Sutter in 2017 at a board meeting, when the board had to approve my hiring as the new administrative director.
I was always amazed by how a person of his age could make it to every one of our meetings and other events. He was always full of energy and ready for an intellectual conversation about politics and economics. I remember at one meeting I told him that I was born 1987 in June and he told me that it was a sign of something good. At that time, I didn't know what he was speaking of but now I realize that he had become a world federalist in the summer of 1987. I also remember telling him that I grew up in East Palo Alto, California and he would tell me about Alan Cranston, a US Senator and a co-founder of the United World Federalists organization. Senator Cranston was born on June 19th in Palo Alto, California, and I believe John was telling me that there was a connection but I only wish I figured that out before he left us.
John was a man from a different time and his life experiences were so much more different than my own, but I have never met a person that I felt was so akin to me. If I spoke about race, gender, age, class, war, or the environment it was like speaking with myself but an older, wiser, and self with more leadership experience. When I told him, I was interested in running for political office he said to do it without question. When I told him about creating a world federalist party, he told me to go for it. When I told him about the Justice Democrats, he donated to the organization. When I was only working a few hours a week, he donated to the organization and made sure I was working part-time.
John's legacy speaks for itself, and I only hope I can reach half of the accomplishments he did in his life. He dedicated his life to helping people like myself. Without John I may have never found the World Federalists Movement; and, I would still be a lonely world federalist by myself out in the world. Now, I am committing my life to the mission of world federal government and the possibility of a world without war, global warming, and poverty. I ensure as John did, the DWF will continue on its mission of world peace and a United Nations government. One day, many others and I will look back at the days before we had peace on Earth and a government of, by, and for all of humanity. I will make sure that everyone knows the name and story of John Sutter, a soldier for democracy, a world federalist.
Original Publisher
DWF News
Etienne Bowie is the administrative director of the Democratic World Federalists and volunteers for the Center on United Nations Constitutional Research. He studied business, economics, and politics at California State University, East Bay where he focused on finance and economics. He is a writer, political organizer, and small business owner.